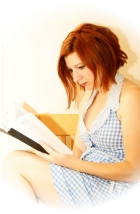 About Rosen Trevithick
Rosen was born in Cornwall. She studied psychology at Oxford before moving back to the West Country.
Readers have downloaded over a quarter of a million copies of Rosen's books. Several titles have broken into the Amazon charts, including a number 1 humorous fiction bestseller.
Praise for Rosen Trevithick
"Brilliant."
- The Independent
"I loved it from the start. It's disgusting, funny and sweet mixed with intriguing mysteries."
- Penny (Schoolchild)
"The Other Daughter is a deeply moving and emotional read."
- D. Jones
"The characters are engaging, the plot tightly woven with enough twists and turns to maintain momentum, and the book deals with important themes in a very sensitive and thought provoking manner. I particularly admired the language, which treads an admirably fine line between moments of humour and the serious consideration of themes such as mental illness."
- Alex Roddie (Author)
My Granny Writes Erotica Official Website
How Not to Self-Publish Official Website