Interview with Margaret James - Author of The Penny Bangle
I was drawn to Margaret James's books by their beautiful covers. Like me, she is a Devon-based writer who has spent some time living in Oxford. I'm delighted to have the opportunity to interview her for this blog.
It's an exciting time for Margaret because a new edition of her paperback, The Penny Bangle, is about to launch.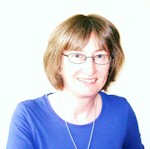 1. Tell us about yourself? Who is Margaret James?
I was born in Hereford and went to school there, but I left to go to university in London where I studied English and Anglo-Saxon Archaeology. I'd have loved to be an archaeologist, but it wasn't really compatible with being the mother of two children. So I chose to be a novelist and write about archaeology, which I did in my novels Elegy for a Queen and Hallowed Ground. I'm planning another novel which will involve an excavation, but it's in a queue right now and won't actually get written for a couple of years.
2. Have you always written fiction, or is it something you suddenly got into?
I was an only child for the first seven years of my life and I had lots of imaginary friends, so I think I must have been destined to become a writer of fiction. I didn't start taking it seriously until I had two small children. My first novel A Touch of Earth was published in 1988 and I've been writing ever since.
3. I understand that you have a new paperback out? Tell us more about it.
My latest novel is a paperback entitled The Penny Bangle and is the third story in a trilogy about three Dorset families. It's a fairly radical rewrite of a hardback with the same title which was published a few years ago. This third story introduces a new heroine, Cassie Taylor, an orphan from Birmingham who arrives in Dorset to work as a land girl, having never seen a cow or even a field. Cassie learns fast, but she soon gets tired of the countryside and joins the ATS, meeting up with her soldier boyfriend in Egypt and having lots of romantic adventures there! But there's plenty of drama, tragedy and heartbreak awaiting Cassie, too.
4. I love the elegant covers. Do you make them yourself?
The covers for the paperback versions of the trilogy were all designed by Steve West - see www.stevewestdesign.com - who has done a fantastic job for which I'm very grateful. They sum up the spirit of the stories perfectly.
5. Do we need to read the others in the trilogy first, or does The PennyBangle work as a stand alone book?
I planned the stories to stand alone because I know from personal experience that we don't always read series novels in the right order! But anyone who starts with The Silver Locket and then moves on to The Golden Chain will probably get more out of The Penny Bangle, and will also enjoy encountering various characters they first met in the other two books.
6. Describe your ideal writing environment.
When I was about 25 I bought a pretty Edwardian desk because I loved it, and I've written all my novels sitting at this desk. It's been in different rooms in several different houses, and it's where I work best, sitting at this particular desk. But I'm very good at ignoring anything I don't want to hear, so I don't expect people to tiptoe around me when I'm working, and I don't absolutely need to be in a special place to work. These days, because of various family commitments, I spend a lot of time on trains, and I find rail journeys are very conducive to working out plots and writing rough drafts of stories.
+
---
1 comment